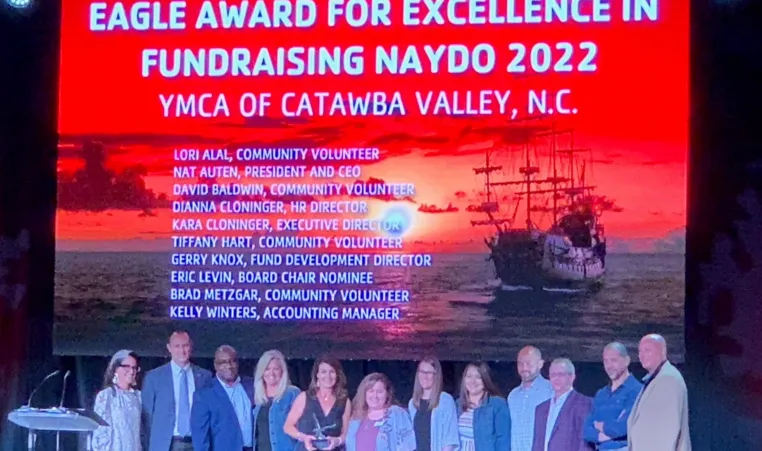 FOR IMMEDIATE RELEASE: APRIL 19, 2022
YMCA OF CATAWBA VALLEY RECEIVES 2022 EXCELLENCE AWARD
Honor bestowed by the North American YMCA Development Organization, selected 2 recipients across Mexica, United States and Canada
Hickory, N.C. – The YMCA of Catawba Valley has been awarded the 2022 Eagle Award for Excellence in Fundraising by the North American YMCA Development Organization (NAYDO), an association of YMCAs from Canada, Mexico, and the United States.
The award recognizes Darrell Johnson (CVO), Nat Auten (CEO) and the entire Y team's tireless efforts to inspire and strengthen a culture of philanthropy at the Y and in the community. The result has been long-lasting support and relationships with community residents; Y members, donors, and partners; and local, state, and federal public servants.
"The judges were impressed by the efforts of every volunteer and staff member," said Christina Harley, 2022 NAYDO Communications Awards chair. "Clearly, everyone is engaged and an advocate for the impact of the Y on local children and families. The Y's philanthropic efforts are well planned, organized and executed. It was clear to our judges that Y members and the community have a deep understanding and passion for the Y's cause, and Y staff and volunteers are motivated to create positive outcomes for years to come."
For more than 40 years, NAYDO has helped YMCA professionals and volunteers advance the Y's mission and increase its impact throughout North America and around the world.
Because philanthropic support of the Y's cause is central to the nonprofit's success, NAYDO recognizes YMCAs for excellence in fundraising each year. The award recognizes exemplary YMCAs that have demonstrated success in all areas of philanthropy, including annual and capital campaigns and endowment growth.
"At the Y, we depend on the generosity of our neighbors to fuel our work," said Harley. "Effective communication of the Y's impact connects donors and volunteers to the positive change their gifts can make in their own communities. We're thrilled to recognize Darrell, Nat and the YMCA of Catawba Valley for its role in responding to community issues and transforming the lives of adults and children."
The YMCA of Catawba Valley was established in 1969 to strengthen our community through youth development, healthy living and social responsibility. Since 1969, our community has positioned the YMCA to serve others by providing $1.5 million in financial
assistance each year, building facilities that have an impact we have on peoples' lives by their participation in YMCA programs and services. Darrell Johnson, CVO for the YMCA said, "Through decades of change, economic ups and downs, our YMCA has steadfastly provided a welcoming place for fellowship, enrichment and personal development. I could not be more proud of what this award says about the YMCA and community as a whole!"
"The Eagle Award is a direct reflection of how ALL leaders around our YMCA embrace our legacy as caregivers and stewards to serve others," said Nat Auten (CEO). "Regardless of the time in our history in which you were involved, thank you for being a staff member, volunteer, donor or member of our YMCA. Your leadership and involvement helps us serve others!"
The Y was recognized and honored at NAYDO's annual conference in April in Tampa (pictured below).
For more information about how you can support the YMCA, please contact the YMCA Financial Development Office at 828-324-9622 or visit https://www.ymcacv.org/give.
###
YMCA OF CATAWBA VALLEY

The YMCA of Catawba Valley was established in 1969 to strengthen our community through youth development, healthy living and social responsibility. The Y engages over 25,000 men, women and children each year – regardless of age, income or background – to nurture the potential of children and teens, improve the community's health and well-being and to provide opportunities to give back and support neighbors. The Y has the long-standing relationships and physical presence not just to promise, but to deliver, lasting personal and social change. The Y mission is to put Christian principles into practice through programs that build healthy spirit, mind, and body for all. www.ymcacv.org.