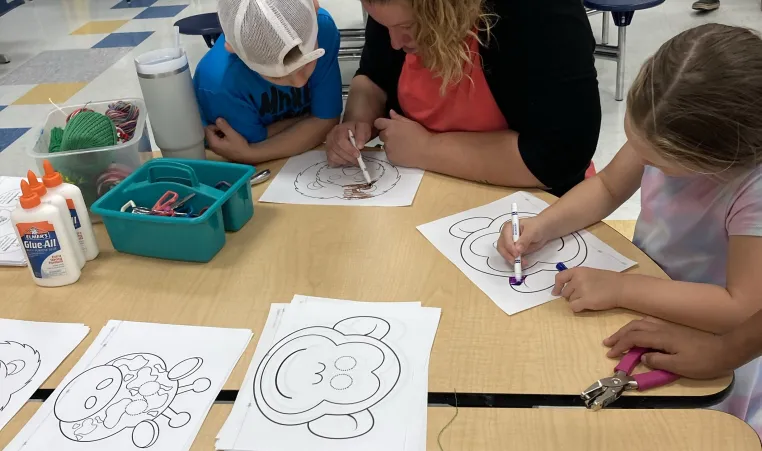 FOR IMMEDIATE RELEASE: 
YMCA Contact:   Erica Simmons | 828-851-7187 | [email protected]
YMCA 21st CENTURY PROGRAM IN BURKE COUNTY
(November 2023) – A celebration of literacy and word exploration unfolded at Mountain View YMCA 21st Century Program Monday, October 16th as children and families came together for the "Wild About Literacy" event. This exciting and educational initiative saw children diving into the world of words, playing board games, and crafting reading guide masks to ignite their passion for reading. With the goal of promoting literacy and word knowledge, "Wild About Literacy" drew around 25 families who gathered to engage in a host of word-centric activities designed to inspire a lifelong love for reading.
Highlights of the event included:
Wordplay and Learning: Young minds dove headfirst into learning a variety of words in a fun and interactive environment. The event provided an exciting platform for children to explore the richness of language and expand their vocabulary.

Board Game Creation: Children got creative and used their newfound word knowledge to craft their very own board games. This hands-on experience allowed them to experiment with words while honing their problem-solving skills.

Reading Guide Masks: The event featured an engaging crafting session where kids created reading guide masks. These masks served as a tool to help children choose books at their appropriate reading level, making reading an even more enjoyable and personalized experience.

Family Participation: "Wild About Literacy" fostered a strong sense of community, with approximately 25 families attending the event. Parents and guardians actively participated alongside their children, enhancing family bonding through the love of reading.
The event not only encouraged literacy but also reinforced the importance of reading as a source of both education and enjoyment. Through these hands-on activities, children had the opportunity to develop valuable language skills in a playful, interactive manner. In addition to monthly math and literacy nights, at the Mountain View 21st Century Program, every child is gifted with books each month, fostering a growing personal library and nurturing a deep passion for reading.
"We are thrilled with the enthusiasm and engagement we witnessed at 'Wild About Literacy'," said Erica Simmons. "Encouraging a love of reading in children is essential for their overall development. We believe that events like this can spark a lifelong passion for literacy."
"Wild About Literacy" was a resounding success, serving as a testament to the power of collaborative learning and the joy of words. The YMCA of Catawba Valley remains committed to promoting literacy and nurturing young minds through such innovative events. All children who attend the Mountain View 21st Century Program receive books each month to help grow their personal library and foster a love of reading.
To learn more about this and other YMCA programs, visit www.ymcacv.org.
####
YMCA OF CATAWBA VALLEY
The YMCA of Catawba Valley was established in 1969 to strengthen our community through youth development, healthy living and social responsibility.  The Y engages over 25,000 men, women and children each year – regardless of age, income or background – to nurture the potential of children and teens, improve the community's health and well-being and to provide opportunities to give back and support neighbors. The Y has the long-standing relationships and physical presence not just to promise, but to deliver, lasting personal and social change. The Y mission is to put Christian principles into practice through programs that build healthy spirit, mind, and body for all. www.ymcacv.org.